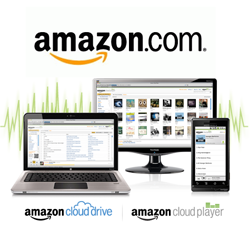 In a bold move that will influence Apple and Google and impact billions in future cloud licensing to record labels, Amazon has unveiled a cloud music service almost daring the record labels to protest. Their service competes directly with my company MP3tunes, but that's not the big news here. Waiting on the sideline is Apple and Google watching how the labels will respond. If the labels do nothing then Apple and Google will see a clear path to their own service without entering a license.
Let's quickly review Amazon's service. If you use MP3tunes you're already familiar with what Amazon offers because it looks just like version 1.0 we launched several years back. It offers a basic uploading program to store all of your music online and then play it back using your web browser. They also offer an Android client to playback your music. Missing is support for Apple's iPhone, auto-syncing with iTunes, internet radio support (like those from Logitech), an API for developers to build support on, international support, etc - all of which MP3tunes has, but again that's not the big story.
The response by the labels to Amazon's service will influence what Google and Apple do. Labels have consistently pressured net companies to enter into licenses with them before launching a cloud music offering. When MP3tunes' launched a service without a license EMI sued us even though we have strict rules about personal use. (A case on which we're awaiting a verdict.) Amazon's launch raises the stakes because of their size and userbase they can touch and the fact that it's no secret Apple and Google are devising their own cloud strategies.
Amazon does have a license to sell songs, but no license for a cloud service. Presumably Amazon shares MP3tunes' view that users have the right to upload their music to enable anywhere listening. If Amazon can launch an unlicensed service without any repercussions paying the record labels no money then what motivation would there be for Google or Apple to enter into a license? Any such license would have substantial economic payments and usage restrictions so Apple and Google would be at a substantial disadvantage to Amazon.
There's also a subtle but important change Amazon has implemented with their store which gives them an advantage over Apple. Until today, buyers at the top US music stores get exactly one download per purchase. Music retailers like Apple and Napster would like to allow multiple downloads per purchase or even better put purchases into cloud storage for unlimited downloads, but their contracts do not permit it. With Amazon's new service however purchases go directly into a locker from which they can be repeatedly downloaded or played from the cloud. Amazon is likely defying terms of their retailer license. (MP3tunes' has this functionality as well called Express Listening but retailers were reluctant to support it because of fear of record label retaliation.)
If Amazon can make music, including purchases, listenable everywhere without paying the major labels or publishers then Apple and Google must do the same. In business it's important that your competitor not have a cost advantage. To put this another way, Google and Apple can't pay costs that Amazon doesn't have and still be competitively priced. It's no secret the record labels are expecting substantial payments for a cloud service. In addition they impose huge restrictions on consumers including what type of devices they can access from, how many devices, what regions it work in, reporting rules and more. Why would Apple deal with those issues to enable streaming to iPad/iPhone if they could avoid them?
I must admit, it's great to have a giant corporate ally in the battle against the record labels that are fighting against user's storing their personal music libraries online. Amazon's effort is solid, but MP3tunes is superior in nearly every aspect. (We better be, we've been doing this for years.) If you've yet to try a personal cloud service then try MP3tunes' because it's truly the industry leader. Here's a list of features with MP3tunes that Amazon can't match.
Support for iPhones, iPods
Support Windows7, WebOS
Support for any music store including iTunes, Napster and Zune
Optimized playback for mobile (smaller files)
Listen to your music on more than 50+ radios (without a PC!)
Auto-sync so your music collection is always in sync
Sync your entire collection down to a PC for offline playback
Try MP3tunes and let me know how it works for you.
--MR
michael@michaelrobertson.com
The Michael's Minute Meter
91%

6%

2%

AGREE
DISAGREE
MIXED
Total Votes: 131
View the Michael's Minute Meter Report