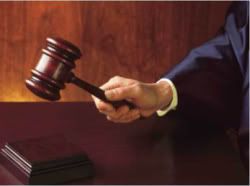 The oral argument in EMI v MP3tunes took place as scheduled in a NYC courtroom. I sat in the second row and was the target of several finger pointing accusations by EMI's attorney. Since EMI has a weak legal argument they need to make it personal and that means attacking me as being a bad guy. They called MP3tunes and Sideload "3G music piracy". I'm not sure what that means, but 3G sounds futuristic. EMI made many arguments with no legal basis such as the notion that any new technology needs to be examined by looking at its impact on the existing business. If that were true there would be no VCR, no MP3 player, no PC, or any new technology because doomsdayers always predict the most dire outcomes.
The 1.5 hour hearing was the culmination of a multi-year legal process where both sides have submitted thousands of pages for the court to read. We had a hot Judge. That's legal slang meaning he asked lots of questions of both sides. Rather than give you my assessment it may be interesting to show you the questions he asked since presumably those show areas where the Judge is examining more closely. (Below is my paraphrasing from memory, not an exact transcript.)
Questions the Judge asked EMI:
Isn't there a lot of free music on the Internet?
EMI employee Sanford Schwartz talked about EMI "virally" spreading music files. Is that true?
Are there lawful uses of Sideload?
Don't other search engines have indexes like Sideload?
Is there a distinction between users who post files on the net and users who consume or download those files?
How is MP3tunes different than YouTube?
Are users of YouTube flagrantly violating copyright laws if they view an infringing work which has been hosted on YouTube?
How is MP3tunes and Sideload different than Colbert Report on YouTube?
What about the 50 songs EMI acknowledges they've distributed on the net for free?
Does YouTube send notices to users who just view a video which is later removed due to a takedown notice?
If users always get the version of the song they store back, why does it matter how the file is stored?
Question the Judge asked MP3tunes:
Why not search all lockers and remove other copies from lockers if same as one in a takedown notice?
Because of the architecture don't you know where piracy files are?
Isn't it obvious that a file from a California swim team web site is not authorized to distribute freely?
When MP3tunes disables an offending link can a user re-enable that link?
Is MP3tunes use of cover art storage protected by the DMCA safe harbors?
From the questions you can see that the Judge is looking at our case in the light of YouTube which was found to be legal. When Judge Pauley pressed EMI about how MP3tunes/Sideload is different than YouTube there was a long silence. Eventually EMI's attorney said that MP3tunes deals with music files instead of video. The law makes no distinction between a photo, video, music, ebook, document or any other file but rather treats all files the same, so I'm not sure there is any legal difference.
When Judge Pauley asked MP3tunes why we don't go through lockers to remove files which were matched in a takedown we responded that the law does not require it and quote from the YouTube case. We also stressed that it very problematic since the user may have loaded the file when it was authorized or from an authorized source. In addition we pointed out that when Google receives a takedown notice for material in their search engine they are not required to go through Gmail accounts or Google Docs accounts looking for the same material to remove.
Judge Pauley closed the hearing by saying: "This is a fascinating case. Decision reserved." Now, the waiting begins. There is no required time for the Judge to render a ruling. Legal experts I've spoken with said to expect a ruling sometime in the next 2-6 months.
--MR
michael@michaelrobertson.com
The Michael's Minute Meter
94%

2%

2%

AGREE
DISAGREE
MIXED
Total Votes: 103
View the Michael's Minute Meter Report