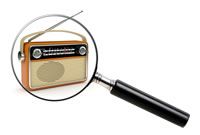 I just launched a beta version of RadioSearchEngine.com - the world's first radio search engine. There are other directories of A-Z lists of radio stations, but this is the first search engine where any song or artist can be located on stations playing from anywhere in the world. A universal web player for the first time connects to and plays nearly every station offering immediate audio satisfaction and unprecedented user control.
Uses:

radiosearchengine.com - Play local stations, locate trending songs and popular shows
radiosearchengine.com/search/metallica - Get a list every Metallica song playing on radio
radiosearchengine.com/search/katy-perry-roar - List all stations playing Katy Perry's Roar
radiosearchengine.com/search/beatles - Listen to any Beatles song being broadcast
radiosearchengine.com/search/chill - Find a list of songs playing on top chill stations
radiosearchengine.com/search/country - Find a list of songs playing on top country stations
Every popular radio hit is just a click away. Charts track the most played songs broadcast on radio in popular genres, all of which are playable. A growing number of internet-only stations makes every style of music from the billboard hits to the most eclectic easily locatable and playable. Tens of thousands of stations are scanned every 3-5 seconds to get the currently playing song. This index is used to construct a real-time library of ever changing music on the radio, all of which searchable. Search for songs, artists, station names, genres, talk shows or podcasts. It's the biggest single audio library of popular content.
Listeners are presented with an array of listening options that invite them to move smoothly between a no effort radio experience or a near-demand experience. When a song is played, additional tunes playing on radio by that artist are listed and playable. A recommendation engine identifies 20 similar songs likely of interest. A chart ranks other popular songs in that genre. A traditional skip button advances to a new related song. Together these options allow listeners to fine tune their audio experience from hands-off radio to playing just old favorites or new hits. Unlike other radio services, there's no limit on fast-forwarding, plus users can search for and play specific songs.
A beta version of RadioSearchEngine is available immediately to all users. An overview video is available here. More information about the service can be found at RadioSearchEngine.com.
I've been working on this new service for nearly a year and excited to unveil it to the world and hope you'll check it out!
--MR
michael@michaelrobertson.com