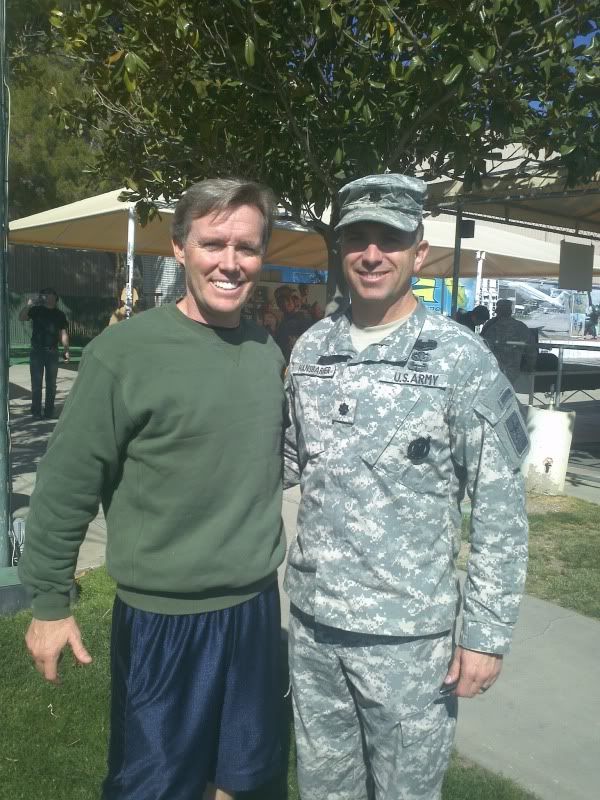 MR with LTC Thomas D. Hansbarger
I recently spent an exhilarating yet humbling day with the US Army. The thrill came from jumping out of a plane two miles up with elite parachute team known as the Golden Knights. The sobering part was speaking with men from the US army wearing a combat action badge - signifying they directly engaged the enemy and hearing their tales of their freedom fighting.
The day started early at an airbase in Perris California, participating in an outreach program that involves a day of learning about the Army culminating with a tandem skydive with the Golden Knights. I've never had the honor of serving our country with a military assignment so it was a enormous privilege to talk directly to those who risk their lives defending US interests around the globe.
I spent quite a bit of time talking with Sergeant First Class Duane Brown, Sergeant First Class Marcus E. Goodwin and Lieutenant Colonel Thomas D. Hansbarger. They told of their deployments to Iraq and Afghanistan. We didn't discuss actual physical encounters but the challenges of cultivating freedom in other countries. For many, freedom is foreign concept and they are blind to freedom of speech, assembly, open elections, movement, etc. Worse off are the women who are little more than slaves in many of these places, having been indoctrinated into believing they are inferior. (I've never understood why feminists aren't the biggest advocates for action in countries where 50% of the population is virtually enslaved.) Stories were conveyed to me about the importance of winning over the local people and the challenges that entails. A significant amount of time is spent running humanitarian missions, bringing medicine, food and other necessities directly to the people and winning them over. Learning their customs, biases and culture is crucial to having an impact.
We also talked about US citizens views and misconceptions about the Army. Many believe that the military is a path of last resort for high school dropouts, but that's not the case. Only one in four applicants now qualify for entry to the US Army. Those requirements will only grow as military spending is likely cut back. For many young people, enlisting in the army is a wise financial decision because they get a guaranteed job, assigned before enlisting, and are paid to acquire a specific job skill plus lay the foundation for a fully paid college attendance. Several years ago, I wrote about the exploding costs of college and questioned whether it makes economic sense for many. If college costs are a concern, the smartest choice young people can make may be enlisting in the Army.
More concerning to me is the sentiment that a strong military is no longer necessary and all that is needed is to "dialogue" with countries. (This is my sentiment - not a discussion topic with Army men I spoke to.) Naive Americans don't seem to believe that evil exists in this world - an evil that speaks one way and acts another. That evil uses the United Nations and American sympathizers to deceive the world about their actions and intentions all the while subjugating their citizens, depriving their population of freedom and imprisoning or killing any opposition. These forces respond only to physical strength - that which is delivered militarily. Otherwise they simply ignore pleas of their citizens or outsiders. The same evil that dragged our planet into WWI and WW2 in their quest for power still exists today. It didn't end in 1945.
I believe the US has been and continues to be a defender of freedom. Our capitalistic economy pays the bills to equip the world's finest fighting force to carry out that mission. While we should use our military judiciously, it remains essential for the defense of freedom around the globe.
| | |
| --- | --- |
| Great words to live by! | SFC Marcus E. Goodwin |
My day ended with a frighteningly spectacular tandem skydive with Staff Sergeant Johnny Ewald. I summoned the courage to be Army Strong after learning this was the same team that President George H. W. Bush jumped with. Watch the video here. Go Army.
--MR
michael@michaelrobertson.com
The Michael's Minute Meter
63%

30%

5%

AGREE
DISAGREE
MIXED
View the Michael's Minute Meter Report