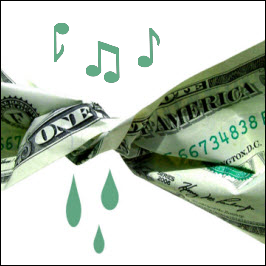 To anyone who has followed the music industry, it comes as no surprise to learn that artists with major labels have very lopsided contracts where they usually get a few pennies for every dollar major labels collect. (Often they have to fight even for those few pennies.) A few years back Congress changed copyright law so that these long-suffering artists can reclaim ownership of their works after 35 years. That's a long time to suffer, but at least there's some relief.
Beginning in 2013, rights of certain songs can revert to the original artist, meaning they'll get all future royalties instead of the record label they originally signed with. The one big exception is if the song is a "work for hire" - commissioned by an organization and not the independent work of another party. (This is an overly simplified explanation but hopefully you get the point.) Sadly for artists, record labels have fraudulently declared many songs as "works for hire" allowing the labels to keep ownership. Artists in this category will be screwed forever.
For technical legal reasons this is at issue in the upcoming MP3tunes trial, but there are implications for ALL artists. If this incorrect designation holds up, then these artists will never get ownership and the future royalties that comes along with it. In the MP3tunes case we have chance to get a ruling that these works are NOT works for hire, paving the way for these works to be returned to the artist without a multi-year battle which will likely cost millions (since MP3tunes has already gone through much of this).
What I'm looking for is an artist who has the courage to stand up on this issue and claim their works, laying the groundwork for them and ALL artists who share their plight to take ownership in the near future and escape this slavery. (Rather like Curt Flood did battling to get free agency for baseball players: See The Curious Case of Curt Flood which should have been called the Courage Case of Curt Flood.)
Below is a list of artists that EMI is trying to claim perpetual licenses of their works. It is not a complete list of artists that are screwed forever and these are only artists signed to EMI. (Other labels have engaged in the same unscrupulous behavior.) If you know any of these artists or managers or legal representation, please pass on my contact info or send me their contact info and I'll follow up with them: michael@michaelrobertson.com, 858-344-6911. I'm hoping to find a couple artists will to provide evidence to the court on this important issue. Thanks for your help!
Screwed FOREVER Artist List:
(Artists Whose Sound Recordings Appear to Have Been Registered as Works for Hire by EMI)

22-20s
30 Seconds to Mars
A Fine Frenzy
A Perfect Circle
Ace Troubleshooter
Acetone
Acoustic Alchemy
Adam Ant
Adrian Belew
Air
Air Traffic
Alejandro Escovedo
Alex Bugnon
Alexandre Pires
Alpha
Alpinestars
Alvaro Torres
Amanda Perez
Amen
Amos Lee
Amy Grant
Anberlin
Andrew Hill
Andy Andy
Anne Murray
Anoushka Shankar
April Wine
Arrested Development
Art Pepper
Asleep at the Wheel
Aslyn
At the Drive-In
Athlete
Audio Adrenaline
Audio Bullys
Babylon Zoo
Bad Brains
Badly Drawn Boy
Bare Jr.
Basement Jaxx
Be Bop Deluxe
Beastie Boys
BeBe & CeCe Winans
Beenie Man
Belinda
Ben Folds Five
Ben Harper
Bentley Rhythm Ace
Bernadette Peters
Beth Orton
Bill Charlap
Bill Charlap Trio
Bill Evans
Bill Nelson
Billie
Billy Dean
Billy Idol
Billy McLaughlin
Billy Squier
Black 47
Black Rebel Motorcycle Club
Blessid Union of Souls
Blind Melon
Blondie
Blue Six
Blur
Bob Belden
Bob Mould
Bob Seger
Bob Seger & the Silver Bullet Band
Bob Welch
Bobby McFerrin
Bobby Pulido
Bobby Vee
Body Count
Bonnie Raitt
Boogiemonsters
Boy George
Boz Scaggs
Breaks Co-op
Brendan Benson
Brooke Valentine
Brother Cane
Bryan Ferry
Butthole Surfers
Caesars
Captain Beefheart
Carlos Ponce
Carlos Vives
Carter the Unstoppable Sex Machine
Cassandra Wilson
Cassius
Celtic Woman
Channel Live
Charlie Hunter
Charlie Hunter & Pound for Pound
Charlie Hunter Quartet
Charlie Hunter Trio
Cherish
Chet Baker
China Crisis
Chingy
Chris Cagle
Clifford Brown
Coldplay
Concrete Blonde
Control
Corey Hart
Corinne Bailey Rae
Cracker
Crowded House
Crystal Gayle
D Generation
Daft Punk
D'Angelo
Daniela Romo
Dave Koz
Dave Navarro
David Bowie
David Lanz
David Sylvian
dc Talk
Dean Martin
Deana Carter
Delirious?
Dexter Gordon
Dianne Reeves
Dierks Bentley
Digable Planets
Dilated Peoples
Dion
Don Byron
Don McLean
Don Ross
Doves
Dr. John
Dread Zeppelin
Duran Duran
Dwele
Eazy-E
El Coyote y su Banda Tierra Santa
Eliane Elias
Ella Baila Sola
Emerson Hart
EMF
Emilio
Enrique Bunbury
Eric Johnson
Erlend Øye
Everclear
Everette Harp
Faith Evans
Fatboy Slim
Fats Domino
Fito Olivares
Fluke
Fountains of Wayne
Frank Sinatra
Freddie Jackson
Fun Lovin' Criminals
Further Seems Forever
Gary Bartz
Generation X
George Clinton
George Michael
Gerry Rafferty
Glen Campbell
Gomez
Gong
Gorillaz
Graciela Beltran
Grand Funk Railroad
Great White
Greg Osby
Grupo Modelo
Guru
Heart
Helen Reddy
Herbie Hancock
Heroes del Silencio
Hole
Holly Cole
Holly Cole Trio
Horace Silver
Hot Chip
Huey Lewis
Hunters & Collectors
Ice Cube
Idaho
Ideal
Idlewild
Iggy Pop
Ima Robot
Intocable
J.J. Cale
Jacky Terrasson
James Iha
Jan & Dean
Jane's Addiction
Janet Jackson
Jarabe de Palo
Jason Moran
Jellyfish
Jesse Cook
Jethro Tull
Jimmy Eat World
Joe Cocker
Joe Henderson
Joe Jackson
Joe Lovano
John Berry
John Lennon
John Scofield
Johnny Rivers
Johnny Smith
Jon Secada
Joss Stone
Judy Garland
Julia Fordham
June Christy
Katrina & the Waves
Katy Perry
Keely Smith
Keith Green
Keith Urban
Kelis
Kenny Rogers
Kenny Werner
Keren Ann
Keri Noble
Killing Joke
King Kobra
Kings of Convenience
Kooks
Kraftwerk
KT Tunstall
Kurt Elling
Kylie Minogue
LCD Soundsystem
Lena Horne
Lenny Kravitz
Leo Kottke
Less Than Jake
Lily Allen
Lisa Marie Presley
Liza Minnelli
Lloyd Cole
Lloyd Cole and the Commotions
Los Prisioneros
Lou Rawls
Low
Low Millions
Luke Bryan
Luscious Jackson
Luther Vandross
Luz Casal
Mack 10
Manic Street Preachers
Marcy Playground
Margaret Whiting
Mariachi Sol de Mexico
Mariah Carey
Massive Attack
Master P
Matt Monro
Maxi Priest
Mazzy Star
McCoy Tyner
MD.45
Medeski, Martin & Wood
Megadeth
Melanie C
Meredith Brooks
Merle Haggard
Michel Petrucciani
Mike Oldfield
MIMS
Mink DeVille
Minnie Riperton
Missing Persons
Morningwood
Mose Allison
N.E.R.D.
Najee
Nancy Wilson
Neneh Cherry
New Grass Revival
Newsboys
Nikka Costa
Norah Jones
OK Go
Orchestral Manoeuvres in the Dark
Oscar Lopez
Over It
Paloma San Basilio
Pat Benatar
Pat Martino
Paul McCartney
Paul McCartney & Wings
Paul Westerberg
Paula Abdul
Perry Farrell
Pet Shop Boys
Phil Woods
Phoenix
Photek
Pieces of a Dream
Pink Floyd
Pirates of the Mississippi
Placebo
Plasmatics
Poison
Priscilla Ahn
Project 86
Q-Burns Abstract Message
Queensryche
R.E.M.
Rachelle Ferrell
Radiohead
Raphael
Raul Midon
Red Hot Chili Peppers
Richard Ashcroft
Richard Elliot
Richard Marx
Ricky Fante
Right Said Fred
Robbie Williams
Robert Glasper
Robert Palmer
Robin Trower
Rod Stewart
Rodney Carrington
Ron Carter
Ronny Jordan
Rosanne Cash
Roxette
Roxy Music
Roy D. Mercer
Royal Trux
Royksopp
Russ Ballard
Sam Butera
Sam Phillips
Sammie
Sammy Hagar
Saosin
Sarah Brightman
Scritti Politti
Selena
Sheena Easton
Shelby Lynne
Shonen Knife
Sia
Sinead O'Connor
Sondre Lerche
Sonny James
Soraya
Soul II Soul
Spacetime Continuum
Sparklehorse
Spearhead
Spice Girls
Stan Kenton
Stanley Jordan
Starflyer 59
Starsailor
Stefon Harris
Steriogram
Steve Miller
Steve Miller Band
Steve Wariner
Steve Winwood
Susan Ashton
Suzanne Vega
Suzy Bogguss
Tangerine Dream
Tanya Tucker
Teddy Thompson
Terence Blanchard
The Band
The Beta Band
The Bird and the Bee
The Chemical Brothers
The Chipmunks
The Cramps
The Dandy Warhols
The Decemberists
The Future Sound of London
The Geraldine Fibbers
The Highwaymen
The Human League
The Immortals
The Juliana Theory
The Knack
The Magic Numbers
The Misfits
The Monochrome Set
The Motels
The Music
The Nitty Gritty Dirt Band
The Proclaimers
The Red Jumpsuit Apparatus
The Rolling Stones
The Smashing Pumpkins
The Smithereens
The Stooges
The Stranglers
The Thrills
The Ventures
The Verve
The Vines
The Wallflowers
The Wood Brothers
Tim Wilson
Tin Machine
Tina Turner
Tobymac
Tom Robinson Band
Tony Bennett
Tony Levin
Trace Adkins
Tru
Turin Brakes
Twila Paris
UB40
Unbelievable Truth
U-Roy
Us3
Van Hunt
Vanessa-Mae
Vanilla Ice
Vas
Vic Chesnutt
Vinnie Vincent Invasion
Vixen
W.A.S.P.
Warren Zevon
Was (Not Was)
Wayne Newton
West Indian Girl
Whale
White Town
Willie & Lobo
Wilson Phillips
World Party
Yellowcard
Ziggy Marley
ZOEgirl
-- MR
The Michael's Minute Meter
94%

1%

3%

AGREE
DISAGREE
MIXED
Total Votes: 254
View the Michael's Minute Meter Report