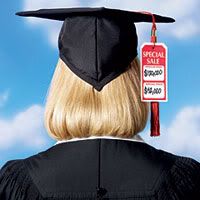 Below is an email I got. I'm using only their initials instead of names to protect their privacy.
---
To: michael@michaelrobertson.com
From: JW
Subject: Is College Still Worth It?? Help?!
Dear Michael,
My name is JW. I am the mother of a college student in Nebraska who is struggling to fund his education. J will be a Junior at Nebraska Wesleyan University this coming fall, if he can come up with the extra $14,000 he needs to bridge the gap from his scholarships/student loans. Wesleyan is an expensive private college, however, we felt they offered the best music program within our area.
J is a very talented singer/songwriter with a passion to make music his career. He discovered this talent after being "cut" from the high school basketball team as a sophomore, at which time he began teaching himself to play the violin, acoustic guitar, piano and ukulele. During his junior and senior years in high school, he was the lead singer/lyricist/acoustic guitarist for a local band called "Dutch Hall Road". This band won a "Battle of the Bands" competition in Omaha, however, college commitments eventually caused them to split up. J has continued to work on his solo career and has produced one EP, with a second one currently in the works. His ultimate goal is to become a performing artist.
My husband and I have been borrowing Parent Plus Loans for the past 2 years, totaling $33,000.00 to date, with 2 more years to go. We just aren't in a position to borrow any more money, but hate to see our son's dreams disappear. I've been pouring over our financial options when I came across your article (Is College Worth It). I am just sick to think that this may all be a huge waste of money and time! With our Parent loans, and J's student loans, we are currently sitting with a debt of about $44,000. My question is, would J be better off to "jump ship" now and drop out of college, or would you have any other suggestions for funding his final two years?
Thank you,
JW
---
And here's my response:
To: JW
From: Michael@michaelrobertson.com
Thanks for writing. I'm sorry to hear about your predicament.
Young people and their parents (like you) are adding an astonishing $100 Billion+ in debt every year to pay for college attendance. Total college debt is nearly one trillion dollars and unlike house, credit card and car debt this is inescapable via bankruptcy. Many don't think about college as a business, but it is a giant one. And they're selling the proposition that if you give them money they will give you knowledge and a certificate which will lead to more money and a better life in the future. Conventional wisdom says it's a good investment, but increasingly research is showing that it is not. Five years ago my foundation did research and produced a startling report, The Biggest Gamble of Your Life (Is College Worth It?). It suggest that for more than half of the students traditional college is not a good investment.
Since then college costs have grown substantially and incomes have not – worsening the economic analysis further. BusinessWeek has an informative article although they over state the numbers because they look ONLY at graduates when about 50% of attendees never graduate. More importantly they assign all the income difference to college attendance when certainly a substantial part can be attributed to other factors such as a work ethic, family support, mental capacity, etc which existed before college attendance.
The belief remains that there's some secret knowledge that will be imparted to you if you give $100,000+ or more to a college administration. Perhaps when books were expensive to make and thus only a few places had them you could make the argument that there were a few centers where knowledge would be imparted (at least book knowledge). Those days are behind us. Capitalism has increasingly made knowledge and information prevalent and easily accessible. No longer must we rely on cloaked individuals to impart their wisdom.
Enough commentary: about your situation. I know of no research that suggests college graduation is helpful for the pursuit of a career as a musician/songwriter. My recommendation is to encourage your son to focus on a real life education - the kind you get playing and writing music in coffee shops, bars, clubs and concert venues. This is where true learning comes about the world - especially the crazy world of music. Colleges will always be happy to take your money cause they're a business at the end of the day so that path will always be there. (They just make admissions sound elite to keep up the mystique to make it all more alluring.) If you and your son feel college is essential in the future you can resume that path, but choose a cost-effective solution because cost does matter.
Good luck.
--MR
michael@michaelrobertson.com
The Michael's Minute Meter
77%

11%

10%

AGREE
DISAGREE
MIXED
Total Votes: 140
View the Michael's Minute Meter Report