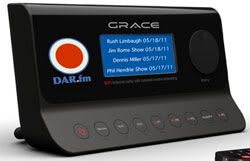 Radios have historically been speakers where broadcasters control what blares out. A new day is upon us where listeners are wrestling control away from broadcasters and can now control what comes out of their radios. The first integrated example of this is the lineup of radios from Grace Digital which seamlessly link cloud recording and an Internet radio to make every AM/FM radio show available on demand.
Here's how it works: First, select the shows that you're interested in listening to from DAR.fm. Browse through the categories or use the search tool to look for a specific show or station. Click the red record button (
) next to the shows you want to record. The system knows when the broadcast is on, the duration, frequency, and every broadcast will be recorded for you. (Think of it like a Lifetime Pass on Tivo).
To listen to the show turn on a Grace Digital radio, select DAR.fm and the show you wish to listen to. Out of the radio comes the audio you select. Since all the audio is stored in a personal account it's all playable at your convenience. A click of a button will fast forward uninteresting segments, rewind those you wish to hear again, or use the pause button to work around an interruption.

Recording radio shows & playing back on a Grace Digital radio
All popular AM/FM shows are available on Grace Digital Radios including: NPR's All Things Considered and Morning Edition, Rush Limbaugh, Sean Hannity, Glenn Beck, Neal Boortz, Laura Ingraham, Don Imus, Ed Schultz and Jim Rome. None of these shows are available as free podcasts so DAR.fm is the only way to insure you'll never miss a broadcast. Every Grace Digital radio includes a free DAR.fm account with capacity to store and play about 70 hours of talk shows.
Radio has a dizzying array of choices so if you're looking for some show recommendations try:
These are a couple of my favorites but if they do not suit your interests, there are thousands more to choose from at DAR.fm.
As the DVR has revolutionized TV viewing, Grace Digital radios combined with cloud recording from DAR.fm will reinvigorate radio listening. Wifi support makes it possible to listen in any room of the house or even by the pool or in the garage - anywhere wifi signals can reach. More importantly since all shows are now available when the listener desires with the ability to pause, rewind and fast forward, radio can expect the same 20% growth in usage that TV experienced thanks to the DVR plus more satisfied customers. It's a good time to be in radio. Get yourself a Grace Digital radio and see the future for yourself.
--MR
michael@michaelrobertson.com
The Michael's Minute Meter
73%

10%

15%

AGREE
DISAGREE
MIXED
View the Michael's Minute Meter Report