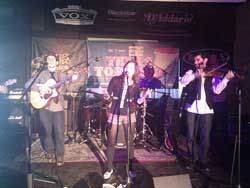 SXSW (South by Southwest) started as a music festival in hip Austin Texas but has expanded to include film and technology. This year they asked me to be a Judge for their startup competition where 30 companies competed. I agreed to help in the music category.
There's no shortage of innovative thinkers and products: some wacky like the strapless guitar that sticks to your shirt or even a shirt that you can play air guitar on. I was tasked along with 4 other Judges to select the grand winner from 3 finalists. The candidates were:
Roqbot is a venue music system using Roku as the player so it can be used with any flat screen TV and has web, android and iPhone apps which attendees can use to influence the music that is played.
Nextbigsound is a stats service for artists. Use it to track the trends of artists. Think what Alexa/Compete do for web sites, they do for bands. It's a free service but they sell more detailed info to those in the industry interested in tracking such activity.
Rootmusic helps bands create pages on Facebook with embedded music player, concert schedule, merchandise, etc. It's no mystery bands are abandoning Myspace (where they migrated after MP3.com was shutdown). This company makes that transition smoother.
Winner was Roqbot who got $4000.
I spent a bit of time catching some bands. A couple stood out. First Shayna Zaid & The Catch an acoustic pop band with a dynamo lead singer and standout violinist/mandolinist Yan Izquierdo. Here's a photo and take a listen to Big Apple Love, Stay, Beat It (MJ Cover). After the concert there were kiosks from a company called Ovation where you could connect your smart phone and get a copy of the just witnessed concert. In spite of the bundle of cable connectors the songs were not immediately loaded to your phone which caused confusion. Instead you received an email later with the songs. Selling live performances does seem like an untapped economic opportunity.
| | |
| --- | --- |
| Shayna Zaid & The Catch | The Kin |
Another notable band was The Kin a band comprised of 2 brothers and hand drummer Shakerleg weaving together thick beat-scapes and organic harmonization. What is hand drumming you ask? Take a look at this photo I took which illustrates what hand drumming is. Imagine a drummer using his hands instead of drumsticks. It's as amazing to watch as it is to listen to. Midway through their set the sound system melted down causing the band to go fully acoustic and play their songs in the middle of the crowd. Yes, that's the drummer playing a clipboard with keys using his boots for the bass line. Take a listen to Together or listen to their take on old school classics like Who Is He (And What Is He to You)?
--MR
michael@michaelrobertson.com