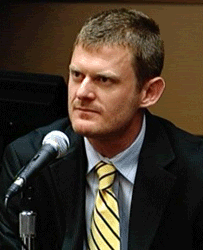 In college I raced bicycles. I trained hard, but wasn't blessed with talent so I won only a single race in my entire career. For inspiration I watched Greg Lemond blaze the trail for American racers in Europe including his 8 second come from behind win of the 3+ week Tour de France. Then came multiple time winner after nearly dying from cancer Lance Armstrong (who my kid insisted should have been named Legstrong). Many people don't realize that cycling actually requires a team of riders willing to sacrifice their own chance at success to aid the team leader. These riders, called domestiques, perform duties essential to win a grand race including: chase down opponents, protect a leader's position, scout the course, swap bikes, carry water and other unnoticed tasks.
For several years Floyd Landis was a hard working domestique helping Lance Armstrong to several victories in the Tour de France until he got his own chance to lead a team. Finally a leader on his own team I cheered him in the 2006 Tour. After appearing out of contention, he broke away on stage 17 pedaling alone over 4 mountain passes leading to his championship. After the event, and his stunning ride, tests revealed that synthetic testosterone was in his system. Landis insisted that he was innocent and I wanted to believe him, but I had my doubts. I called his handlers and sent them a letter offering to give Landis $100,000 to take a lie detector test and have the results published publicly. They said they would consider the offer but never responded after the initial contact.
Landis has continued to protest his positive drug test. He has been doing so for 4 years in TV interviews, by authoring a book, testifying in court, and by disparaging American and French sports organizations at every turn. He even stooped to dig up revealing and personal information about how the the great champion Greg Lemond was molested as a boy in what appears to have been a bizarre extortion attempt. He took donations from his fans, estimates are about a million dollars, to fund his battle to reclaim his honor all the while insisting on his innocence.
Only he turned out not to be innocent. Landis now admits that he not only took testosterone, but a medicine chest full of banned substances including HGH and EPO. He lied in public, in court, in writing, and face to face to fans. Anywhere and anytime it served his personal interests, he lied. He doesn't have zero credibility, he has negative credibility. Whatever self-serving words he utters, the opposite should be believed.
On his way down the moral abyss Landis is disparaging a group of accomplished cyclists including Lance Armstrong, Levi Leipheimer and current US Road Racing champion Dave Zabiskie by alleging they are also cheats. Landis' words and accusations merit no consideration. He should be recognized for the thief that he is. He stole money from others in the peloton who trained honestly yet finished behind him. He stole money from good-hearted fans who funded his defense. Don't let him steal the reputation of other cyclists.
--MR
michael@michaelrobertson.com
To discuss this topic with others, click here!