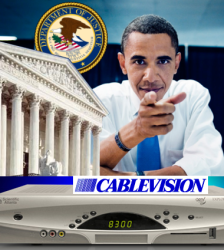 President Obama's attorney filed papers with the Supreme Court supporting an earlier court decision that found Cablevision's remote storage DVR to be legal. The solicitor general also showed technology savvy, mentioning "cloud services" and even commenting on a music locker where people upload their own files. This is a positive development for consumers wondering whether the new administration would side with consumers or media companies in the ongoing battle to control individuals' digital possessions, and gives hope to MP3tunes in our battle with EMI.
The U.S. Supreme Court had asked for the government's view of a lower court's ruling allowing a DVR in which the storage equipment was housed at the cable company's premises instead of an in-home set top box. (See: Will Obama Outlaw Your Tivo) Solicitor General Elana Kagan, writing on behalf of the President, stated that the "RS-DVR service would offer the same functionality as a VCR or a set-top DVR." and concluded that the "2nd Circuit reasonably and narrowly resolved the issues that were presented to it" agreeing with the appellate courts finding that Cablevision's proposed service was not a copyright infringement. She went on to state that, "Other cable providers may initiate services that are similar to respondents' [Cablevision] RS-DVR."
Consumer advocates will cheer the Solicitor General's conclusion as support for the DVR but forward-looking comments contained in the decision could have even wider implications. While discussing other services she wrote, "Analogous issues also may arise with respect to other network-based services for copying and playing back copyrighted works.(3)" Footnote 3 contains promising comments for internet companies where for the first time a brief was filed with the Supreme Court mentioning "cloud computing" and a music locker. Here's footnote 3 in it's entirety: (my emphasis)
Footnote 3: One example may be music lockering services, which permit users to upload files to a remote computer server and stream that music to a personal device over the Internet. The general development of cloud computing, which is an umbrella term for services where programs or files are stored remotely and accessed via the Internet or other means, may generate similar issues.
This footnote demonstrates a deep technical understanding of technology trends and terminology, including the correct definition of cloud computing and the recognition that it requires making copies of copyrighted materials. It appears that the Solicitor General's office is aware of EMI's attack on MP3tunes' music locker service (See: All Your Music Are Belong To Us) and maybe one or more authors actually has a music locker.
Internet speculation has expressed concern that President Obama was stacking the Department of Justice with attorneys who were formerly allegiant to the RIAA, giving big music undue influence. In the first test pitting consumers interest versus media companies: the consumer emerged victorious (which should put some at ease). I am impressed with the thoughtful and thorough understanding that served as the foundation for this important decision. As Ms. Kagan wrote in the brief to the Supreme Court, "The Second Circuit's decision, however, is unlikely to be the last appellate ruling to address these issues."
Let's hope that future jurists examining these issues have the same understanding of cloud computing and services that make copies of user's personal video, audio and other digital property.
--MR
michael@michaelrobertson.com
To discuss this topic with others, click here!





The Michael's Minute Meter



86%

8%

5%

AGREE
DISAGREE
MIXED
Total Votes: 111
View the Michael's Minute Meter Report