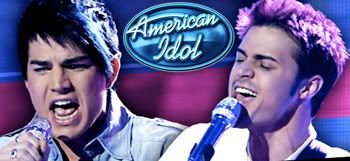 American Idol is once again the #1 TV show in the US and the competition is down to the final two. Glambert fans created Operation And Justice For All while the Kris Allen Nation has Operation Ding Dong to garner more votes for their contestant. These digital campaigns explain how to vote using Gizmo5 software or GizmoCall (browser based VOIP software) by placing calls to the 800 number for each contestant.
By tallying votes submitted to the 800 numbers for each contestant we can use the Gizmo5 calling data to project who garnered more votes and will become the next American Idol. Here's the data:
Online American Idol Voting via Gizmo5
Adam Lambert
Kris Allen
Votes using GizmoCall
12,720
4,510
Votes using Gizmo5 Mac
44,110
33,850
Votes using Gizmo5 Windows
203,400
187,890
Votes using other devices (wifi phones, Linux)
1130
10
Total Votes
257,570
223,330
Votes from US
88,460
105,950
Votes from non-US countries
172,900
120,310
Votes from unknown countries
63,210
38,900
Mac, Windows, and Linux users all slightly preferred Adam as their American Idol choice. In spite of the "American" in the name, the show garners considerable international interest with non-US votes out-numbering US originated votes 2-1. Examining only US cast votes shows a preference for Kris. So the data suggests that Kris wins American Idol and Adam wins Global Idol. Votes were registered from more than 45 non-US countries with Philippines, Singapore, UK, China and Finland and Canada as the most popular non-US countries.
Watch the results show to see how Gizmo5 votes correspond to the final tally. It's too late to use Gizmo5 to vote for your favorite American Idol but here are some ways to use the Gizmo5 and some other technology to save money on your communication needs:
1) Use FREE conference calling system GizmoConference.com for your business, organization or school. No monthly or per minute fees and the only conferencing system with FREE international access options!
2) Create your own professional class phone system without the high price tag with Virtual PBX, the first business class phone system certified to work with Gizmo5! Within a couple of minutes, you can have a fully automated, professional, advanced phone system with features like 99.999% uptime, real call routing, auto attendant, simple administration, professional support starting from $9.99/mo. And you can save even more with using Gizmo5 to receive your calls over IP.
3) Don't call 411 on your phone and pay 75 cents per call, instead dial the accurate and useful Google info line at: 1-800-466-4411 (1-800-GOOG-411). Go ahead and put it to the test now and then add it to your addressbook!
4) Sending SMS international can be crazy expensive. If you don't have a SMS plan or want to send international messages then Gizmo5 has the best SMS options and it's the only 2 way SMS services so you can send and receive SMS messages to anyone right from your desktop. Gizmo5 is upto 50% less on charges for texting anywhere in the world. And if you don't need 2 way SMS you can try our totally free SMS gateway GizmoSMS.com which works for many popular carrier's service.
5) Cancel the dedicated monthly fax line and go with an online service like www.efax.com. And if you just need to send the occasional fax you can do that for free online at http://www.myfax.com/free/
6) Google Maps is your free solution for driving instructions, walking directions and public transportation from your phone. It's available for most phones and keeps getting better - now with real time traffic information and street view which shows you actual images of where you need to go.
--MR
michael@michaelrobertson.com
To discuss this topic with others, click here!





The Michael's Minute Meter



50%

34%

15%

AGREE
DISAGREE
MIXED
View the Michael's Minute Meter Report