There are millions of videos on YouTube and many come and go. (Warner Music recently removed all of their music videos and Universal Music has threatened to do so.) What's needed is Tivo-type software which lets you control when and where you view it. A powerful Firefox add-on called DownloadHelper from a French company lets you save videos from YouTube (and most other video sites), put it into a locker or even send it to your phone. Sophisticated users have always been able to do this, but now for the first time it's point and click easy with a menu of choices next to the video that you can choose from.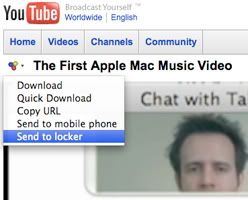 Along with easily downloading, DownloadHelper lets you store the video in your MP3tunes locker and send a copy to your mobile phone. Many people like to collect videos of their favorite band, hobby or other subject and now they can gather videos from YouTube and other video sites into a personal collection. They can store them locally or select a menu item which will send the videos to their private storage space at MP3tunes. (MP3tunes recently expanded our system to accept videos along with audio files.) This is a great way to build your own personal video collection on any topic.
| | | |
| --- | --- | --- |
| Send Video Files to Your Private Locker | ††† | Music video courtesy of Fifi Bastard |
Another handy feature of DownloadHelper is the ability to send video and audio files to phones. Phones are increasingly become video viewers but it can be hard to get a video from your favorite web site to your phone in the right format. DownloadHelper makes it easy. Select "Send to Mobile" - and a version is sent to your phone. (My kids enjoy listening to comedy routines in the car during long road trips and this makes it easy to stock up on a few.)
| | | |
| --- | --- | --- |
| | ††† | Send Audio or Video Files to Your Mobile Phone! |
Personal recording is more popular today than ever with 2.87 billion pieces of media recorded in 2008 from broadcasts - more than the number of songs sold on iTunes but less than P2P downloads. Recording broadcasts has been popular since the play-record button on the boombox was invented. Today, net based recording is accomplished with TV capture software on PCs (think about all those videos on YouTube with channel logo overlays), online services, and downloadable software - like DownloadHelper. Many web sites don't offer downloads by default, but for nearly every media site there are multiples ways that consumers are able to record audio and video. If you can hear it or see it, it can be recorded and that's what people are doing so they can control their media experience. Here's a few examples of the tools people are using with several of these having millions of users.
Personal Recording Software**
Program
Service
Media
OS
Cost
Comments
DownloadHelper
YouTube
MyspaceMusic
Others
Video
Audio
Mac
Win
Lin
Free
Firefox browser plugin. Supports hundreds of video sites. 6.5 million users.
Freezer
imeem
Deezer
Jiwa
Audio
Win
Free
Records streaming sites and properly labels each track.
PandoraJam
Pandora
Audio
Mac
$15
Records and labels streams from Pandora.
Proxomitron
Pandora
imeem
Last.fm
Audio
Win
Free
Setup tutorial written by a junior in high school. Not the easiest software to use.
RadioLover
iTunes
Audio
Mac
$15
Record all the online radio stations listed in itunes. Can record multiple stations simultaneously and then add all songs to itunes automatically.
SpotSave
Spotify
Audio
Win
Free
Spotify is a popular new European music web site.
TheLastRipper
Last.fm
Audio
Win
Free
Captures and labels streams from Last.fm
Vid2MP3
Myspace Music
Others
Audio
Mac
Win
Lin
Free
An online service which converts video URLs into MP3 files.

** There are hundreds of recording solutions. This is just a short list.
Personal recording is a useful and easy. Install DownloadHelper into your browser by clicking here and then add some video to your MP3tunes locker. Check out Programmed by Race Card - the most innovative music video since Ok Go's "Here It Goes Again".
--MR
michael@michaelrobertson.com
To discuss this topic with others, click here!





The Michael's Minute Meter



74%

20%

4%

AGREE
DISAGREE
MIXED
View the Michael's Minute Meter Report