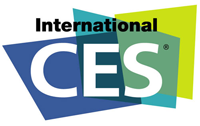 I typically attend the annual Consumer Electronics Show in Las Vegas which is the biggest conference in the US. This year attendance was noticeably down. Numerous press reports lament a lack of innovation and attribute the stumbling economy, but that's inaccurate. Products at CES are planned 1-3 years in advance and have not been affected by recent economic woes. Fewer people did mean a more enjoyable show with shorter taxi lines, show hallways you could easily traverse and more approachable senior management. There were plenty of products and trends to get excited about.
Music Everywhere
Wireless delivery of music to your car is becoming a reality and Clarion is the early leader. Their touch screen MiND device (which was also on display at the Intel booth) will load your music collection to your car directly from the Internet. Rip a CD, download a track at your office computer and then have it automatically loaded to your dashboard using either your mobile phone's net connection or wifi. Behind the scene, songs are being copied from your personal music Locker to your car so you can listen to all your favorite tunes while cruising down the road. In addition to music syncing, the MiND also displays Google Maps and Traffic.com – all controlled from the net.
Net radios also took a big leap forward with two new devices from Acoustic Research. The Inifinite Radio ARIR600i (available in March) packs a big feature set into a $199 MSRP radio. Plug this unit into the net or use wifi and you've got big booming sound, iPod dock, access to net radio stations, AM/FM radio, weather reports and integration with your online Locker so all your personal commercial-free music is in any room of your house or office. Acoustic Research also unveiled the ARIR200 which is a smaller, alarm clock sized unit but still has built-in speakers, net radio and access to your online Locker. Best of all, with a MSPR of only $129, it will expose a mass market audience to the value of net radio where you "plug and listen" without the complexity of a PC.
TV - Mind Control, Net-On-Your-TV
Thanks to the Wii, many are familiar with gesture (hand movement) manipulation using the Wii candy bar shaped controller. Hitachi showed off some new technology where hand gestures –without a controller– could be used to operate your TV. Watch the video here. It's not quite mind control yet but, it's getting close.
The explosion of unique, niche, web content lures people to find new ways to deliver it to your television. On-screen fantasy sports widgets, Youtube video, photos, or streamed blockbuster movies are all destined for big screen viewing but, how to get it there? Plenty of companies are offering their solutions. Samsung and Toshiba where showing Yahoo TV Widgets as an overlay on your TV picture courtesy of an extra box you add to your media center. In the future, they promised the technology will be built right into their TVs. Motorola was also showing off several new set top boxes which add Internet features. They're trying to entice cable companies to buy these boxes and give them to the consumer. Still others have devices that are half PC and half set top box with net awareness and video output.
Meanwhile Boxee, a software-only solution which lets people turn a PC into a TV-like experience, was getting lots of attention on the show floor and in the after hours meetings.
In 3D!
Shapeways was showing an innovative 3D printing service. Send them a 3D model and they will print and send it to you. Check out the video here. Sony and other TV manufacturers were showing off ultra realistic 3D video programming: games, sports and movies. This requires improved video capture so it's not quite ready for the mainstream yet but, it's definitely coming. Disney already has half a dozen 3D movies in the pipeline. Nvidia was showing their innovative 3D Vision glasses designed to add an extra dimension to your video game playing experience.
And finally, from the "you-thought-we-were-dead" category: Polaroid was showing the Pogo which is a 5 megapixel digital camera with a built-in printer that spits out 2x3 inch photos in under a minute. Each photo costs 35 cents and it use Zink –zero ink technology– so there are no ink cartridges just special paper.
The future is coming! It's going to be instant, connected, always-on, and personalized just for you. CES 2009 gave us just a glimpse of what the world will look like when the cloud starts to connect with all of your electronic devices. Soon, all of your favorite personalized media will be only a click (or gesture?) away no matter where you go.
-- MR
To discuss this topic with others, click here!





The Michael's Minute Meter



77%

16%

6%

AGREE
DISAGREE
MIXED
View the Michael's Minute Meter Report