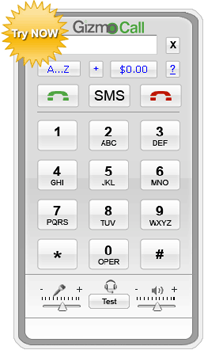 PC calling just got a lot easier because now you can make and receive calls using just your web browser. Open your browser and go to GizmoCall.com and you're ready to call.
GizmoCall works on ALL computers (Mac/Win/Lin) even the tiny new netbooks. It's the ideal calling solution when you don't have time or can't download, install or configure big bulky PC software which can slow down your computer.
You can call millions of other computers for free or buy calling credits and make affordable calls to any telephone in the world. It's an ideal solution for the budget minded person who wants to make calls (and receive calls!) from any computer. Give GizmoCall a try and read the FAQ for how you can make phone numbers on pages trigger a call (example: http://gizmocall.com/18005551212).
GizmoCall is part of the trend away from desktop software towards services in the browser which are fashionably called the Cloud services. The era of desktop software is quickly coming to an end and being replaced by web applications which are accessible from anywhere, load fast and ultimately have more features because they can be tied into the network more easily. Here's a list of some such services:
Migration to Web Based Services
| | | |
| --- | --- | --- |
| Function | Old School Desktop | New School Web Service |
| Calendar | Outlook | ScheduleWorld, Google Calendar |
| Calling | Skype, Gizmo5 | GizmoCall |
| Email | Eudora, Outlook | Hotmail, Yahoo Mail, Gmail |
| Image Editing | Photoshop | Photoshop Express |
| Instant Messaging | AIM | Meebo, RadiusIM, Giz5 (mobile phones) |
| Music | MusicMatch, itunes | MP3tunes, Lala |
| Office (Docs, Spreadsheets, Presentations) | Microsoft Office | Google Apps, Zoho |
| Personal Finance | Quicken | Buxfer, Mint |
| Photo Touchup and Organizing | Microsoft Photo, iPhoto | Picnik, Flickr |
I hope you'll give GizmoCall a try and let me know how it works for you. If you're a developer and would like to add web calling to your application please visit http://www.gizmo5.com/apis.
-- MR
To discuss this topic with others, click here!





The Michael's Minute Meter



25%

70%

4%

AGREE
DISAGREE
MIXED
Total Votes: 163
View the Michael's Minute Meter Report