A year ago there were no MP3 stores, but today, there's a growing list of MP3 stores available for your digital purchases. Big companies like Amazon, Walmart, Napster, Real and others are battling for your business. To select the best store visit MP3 Store Guide which compares all major stores on features and prices. Plus it has links to easily search all the stores so you can find nearly any song. (Plus there's links to free songs.)
Whatever MP3 store you buy from, be sure and take advantage of the free MP3tunes Locker which makes ALL your MP3 purchases more valuable. If you're running the LockerSync software you will automatically get:
Instant backup so you never lose any songs
Unlimited downloads making it convenient to buy from work or home
Free service to put all purchases onto your mobile phone
Here's some of the information you'll find at MP3 Store Guide. Visit the web site for complete listings.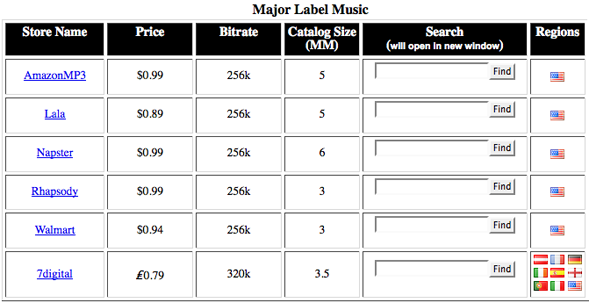 -- MR
To discuss this topic with others, click here!





The Michael's Minute Meter



66%

26%

7%

AGREE
DISAGREE
MIXED
View the Michael's Minute Meter Report