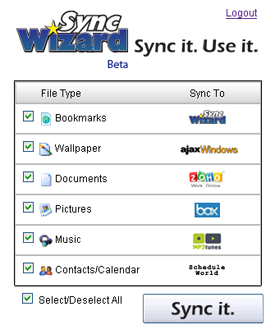 I used to lug around a laptop so I would always have my digital belongings at home, work and travel. Even though it was a svelte 2.2lb IBM/Lenovo x40 this still meant carrying around a computer bag (man purse). Just having the bag also attracted pounds of equipment - like a charger, extra battery and other accessories. Today I no longer carry a laptop everywhere, but instead have moved my life to the cloud. All the services and data I use to run my companies and live my life do not reside on a laptop or on a PC under my desk, but via a browser window on the net. This gives me flexibility to work from anywhere and the added relief knowing that my computer could catch fire or get stolen and I wouldn't lose any information. I'd be back to work immediately.
If you're considering moving your life to the cloud, the first step is moving your digital belongings to the net. There are many services to consider and accounts to create and maintain, which means a big hassle and a considerable amount of time and effort. A free service called SyncWizard saves hours by automatically creating all necessary accounts and then moving everything to an ideal service. With a few clicks it scours your computer for contacts, photos, music, documents and calendar events and loads them to an online services for each content type. (There's even a mobile version to get photos from your phone camera.) Once completed your data is available from any browser or phone. Here are the cloud services I use:
Cloud Services I Use
Data Type
Service
Comments
Bookmarks
SyncWizard *
Stores bookmarks and creates a MyStuff page to quickly access all your files at one place from your phone or browser. (SyncWizard Compatible)
Calendar
ScheduleWorld *
Grabs info from Outlook, Google Calendar, Lightening and stores it online to view from anywhere including browser, Google Calendar and mobile phones. (SyncWizard Compatible)
Contacts
ScheduleWorld *
Grabs info from Outlook, Google Calendar, Lightening and stores it online to view from anywhere including browser, Google Calendar and mobile phones. (SyncWizard Compatible)
Documents
ZoHo
Stores word processing, spreadsheet and presentation files and provides applications for editing. (SyncWizard Compatible)
Music
MP3tunes *
Storage, streaming and syncing of music files. (SyncWizard Compatible)
Photos
Box.net
Online file storage service. (SyncWizard Compatible)
Email
Google
Mobile and desktop browser interface. Not part of SyncWizard.
Instant Messenger
Giz5 *
Supports all major IM systems (MSN, Yahoo, AIM...) with a mobile and desktop browser version reachable at www.giz5.com. Not part of SyncWizard
Start Page
My Yahoo!
News, stocks, fantasy football, movie times, make this a needed cloud service. Not part of SyncWizard
* Designates companies I have a financial interest in seeing be successful. I am not impartial on these.
Now you may wonder about the security of your data on the net. It may feel safer on your PC, but it's actually much safer remotely stored and secured with a known corporation. You wouldn't keep your money at home under your mattress so why keep your photos, music or other digital property stored locally? Your bank information has been in the cloud for years as well as your entire purchase history with Visa and Mastercard. It's important to have confidence in the company that holds your data and to ensure that you can always retrieve all of your information at any time. The ability to switch services anytime ensures you will be treated fairly.
At first it's an uneasy feeling to not have your information tied to a specific PC. (The younger net generation doesn't have this same trepidation.) Ultimately it's liberating moving completely past the PC era into the net era. Now as I roam about I either use the browser on the computer closest to me or I just use my phone. (I recently started using a Nokia e71 which is a brilliant phone with a much improved form factor and simply the best open phone available with a keyboard. More on that later.) If you want to take the first steps moving to the cloud give SyncWizard a try and spend 2 weeks using just a browser. Your head will be in the clouds permanently.
-- MR
To discuss this topic with others, click here!