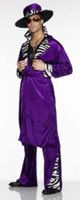 I like the music service Pandora and the employees are some of the nicest in the industry, but Pandora is going to drown with the royalties they must pay to record labels unless they can change the law (which sadly I don't think they have the political clout to do). It's not just Pandora, all US based webcasting companies are in the same boat. They have to pay money for every song they transmit and there's simply no way they can cover that payment - much less all their other costs - with advertising. Eventually companies like imeem and Pandora will run out of investor funding and the services will go silent.
At MP3tunes we decided to build a Pandora-like system that won't get crushed by labels and also didn't have the nagging limitations of web radio like no rewind button, limited song skipping, no song look ahead, etc. We call this service PiMP and --similar to services like Slacker and Last.fm-- we let users select an artist, genre or source song to select music they are interested in hearing.
There are several unique features which make PiMP superior to Internet radio. Because PiMP uses songs from your own personal collection you have complete control of the experience. PiMP allows rewind, unlimited fast forward and displays songs to be played next, and it can play multiple songs from the same artist - all features forbidden with web radio. This does mean that you won't be introduced to new songs which, admittedly is a benefit of web radio, but new songs will eventually be in the PiMP rotation. (Some labels want us to promote their songs within Lockers to get new customers and sales.) Because the most important songs to you are the ones you already own - Apple proved that with the 1000+ songs on every iPod with only 24 songs being purchased from the iTunes store. The remaining 976 songs are from the personal libary.
It's free to use PiMP. Simply create a free MP3tunes Locker and load it up with at least 250 songs using the free LockerSync software. Then visit mp3tunes.com/pimp and the service will select songs automatically to suit your taste.
Ways to Listen To Music
†
Lean Back:
Lean Forward:
Old School
AM/FM Radio
CD/MP3 player
Limited Digital
Pandora, Last.fm
iTunes, Windows Media Player
Future
PiMP (full control)
Music in the cloud (available anywhere you are)
Pandora and it's many cousins are great examples of a "lean back" music experience where you don't have to think about selecting songs one by one instead they just hit your ears. Lean forward is where you interact with the music by selecting the songs to play with full control over the music experience like iTunes. It's more work, but the songs you hear are exactly as you want because you're the programmer. The world needs both and PiMP can fill the void when net radio services are put out of business in the future.
-- MR
To discuss this topic with others, click here!
The Michael's Minute Meter
29%

59%

10%

AGREE
DISAGREE
MIXED
Total Votes: 101
View the Michael's Minute Meter Report