Telephone companies such as Verizon, Sprint, T-Mobile, MetroPCS, and others have quietly been connecting their phone networks up to the Internet. Working with our telecommunication partners, Gizmo5 is launching an experimental service to place calls from the Internet directly to millions of these phones - bypassing the traditional phone system and it's costs entirely. Regardless of where calling them from these calls will be free to the caller since the call travels only over the Internet bypassing this historic legacy and fees of the phone system. I call this "Backdoor Dialing" and I'll tell you how to do it below and to check if your telephone number is in the 11% of US telephones available with this program.

Frequently Asked Questions for Backdoor Dialing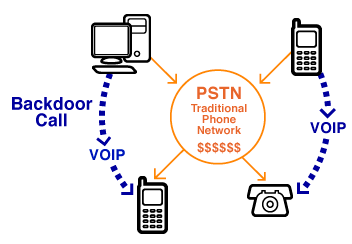 Q: What is Backdoor Dialing?

Backdoor Dialing is a new service where you can dial telephone numbers directly from the Internet avoiding the fees associated with traditional phone calls.

Q: How does Backdoor Dialing work?

Gizmo5 has connections using VOIP (voice over IP) to many carriers. Our servers are programmed to identify backdoor dialing calls by their special prefix and transmit them over VOIP. This bypasses the traditional phone network and the associated toll charges making the call free to the caller.

Q: Is Backdoor Dialing really free?

Yes. There is no setup fee. No monthly fee. No per minute fee. No credit card is required for setup. There is no charge.

Q: Why would Backdoor Dialing be useful?

Backdoor dialing is useful if you have friends, relatives or co-workers who you want to call you without incurring a toll charge. It can be especially useful for people to receive call from outside the US because any PC connected to the Internet can take advantage of Backdoor Dialing without long distance fees.

Q: How do I know if my telephone number is available for Backdoor Dialing?




Enter the number at gizmo5.com/backdoor and it will reveal if backdoor dialing is possible with that number. You can check your own telephone number or others you wish to dial. There is no charge for this service.



Q: What carrier's numbers are callable via Backdoor Dialing?



Our current connections give us coverage to approximately 11% of all phones in the US at launch. This includes landlines and mobile numbers from many popular carriers including Verizon, T-mobile, Sprint, MetroPCS, Cablevision, view the full list here.

Q: Why isn't my number part of the program?

Backdoor dialing is a new program. It is not available for every phone yet. The program is constantly being expanded though.

Q: I use a carrier from your list but it says my number is not supported. Why not?

Not all of the numbers for all carriers are included in the program. Carriers often have different technology for different areas where they do business. Some of their numbers may be connected to VOIP networks while others may not.

Q: Who can call a number with Backdoor Dialing?

Backdoor Dialing is available for personal and business calling. There are no restrictions on who can call.

Q: What kind of call quality can I expect with Backdoor Dialing?

Because Backdoor Dialing is bypassing the traditional phone network and taking a more direct route via modern VOIP you call quality should be equal to or better than you normally experience.

Q: I have a non-US number. Can I use backdoor dialing?

We are launching the program with US numbers only but hope to expand it to international numbers in the middle of 2008. If you are a registered Gizmo5 user you will receive email when we expand the program to your country.

Q: How do I place a call using Backdoor Dialing?

To place a call you install Gizmo5 software on any PC or use GizmoCall - a web based calling system. Then dial 0101-. The receiver will see your call as a regular incoming call which they can answer and talk to you.



Q: Can I place a free call without using a PC?



There are several ways to use Backdoor Dialing without a PC.



1)

Use a Nokia Wi-Fi phone such as the N80, N95, or e61i. You will need the Gizmo5 Labs
software on your device.



2)

Use Nokia's N810 Wi-Fi tablet running Gizmo5.



3)

Use a SIP based ATA with a traditional phone handset. Just connect your device to the network with a valid Gizmo5 account and dial 0101- then the 10 digit US number. If you need an account for your device you can sign up for one here.

Q: Where can I call from?

Calls are not restricted by region so you can place calls to Backdoor numbers from anywhere on the Internet whether inside the US or outside.

Q: Why do I have to dial a special prefix before the number?

Normally there is a per minute fee for all connected phone calls to US telephone numbers. Even if you pay a flat fee per month to your phone company that money is used to pay the per minute fee. With Backdoor Dialing we are bypassing those fees and the prefix instructs our call routing computers to only use VOIP to connect the call.

Q: How can Gizmo5 afford to do this?

Because these calls are VOIP calls they do not have the costs associated with phone calls historically. They are more like an email message or instant messaging transmission on the internet for which there is no cost beyond that of your internet connection.

Q: Is this a temporary program?

Backdoor Dialing is an experimental program. But if the response is positive our intention is to continue the program into the future and expand it to include international numbers from progressive carriers as well.

Q: Are Vonage numbers available for backdoor dialing?

No. We would like to include Vonage numbers, but our networks are not connected at this time. If you're a Vonage customer, ask them to connect to our network and all their numbers would be included in our program.

Q: Are you adding numbers?

Yes. We are adding carriers and expanding coverage. So even if your number is not listed check back periodically. If you work for a carrier who would like to have telephone numbers in your network included in this program please contact us here.



Q: Can a VOIP enabled phone number be used to call a PC?



Yes. When a call is placed using Backdoor Dialing a US telephone number is assigned to them which will be displayed on the CallerID. If they call this number back it will ring the PC.


--MR



To discuss this topic with others, click here!











The Michael's Minute Meter



75%

8%

16%

AGREE
DISAGREE
MIXED
View the Michael's Minute Meter Report